State Secretary Dr. Michael Meister visits the Eurox Pharma production plant
Bensheim – July 12, 2021 – At the invitation of Eurox Pharma, a pharmaceutical partner company of Dr. Reckeweg & Co. GmbH, which specializes in medicinal cannabis products, Dr. Michael Meister, Member of the German Bundestag and Parliamentary State Secretary to the Federal Minister of Education and Research, toured the company's production facilities in Bensheim, Hesse, last Tuesday. He spoke with Eurox management about the state of scientific research into the production and use of medicinal cannabis, the planned product range and the future expansion of the site in the heart of the Bergstrasse region. The use of medical cannabis products has been regulated by law since March 2017. Medical cannabis can be reimbursed by health insurance companies.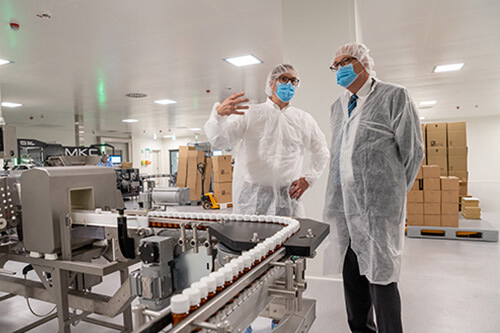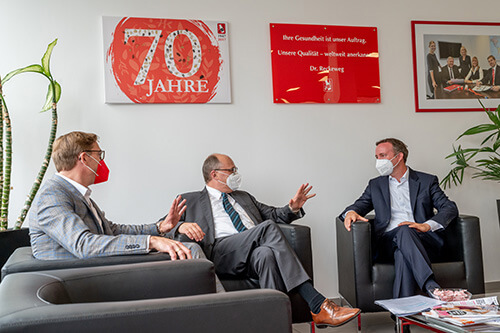 During the appointment, which lasted just under two hours, the two Eurox managing directors David Reckeweg-Lecompte and Dr. Bernhard Babel explained the special role of science in patient care with medical cannabis and the quality requirements that must be met. Eurox Pharma has entered into a production partnership with Dr. Reckeweg & Co. GmbH, which brings over 75 years of experience in the production of herbal medicines and produces the cannabis extracts according to strict Good Manufacturing Practice (GMP) guidelines. At the state-of-the-art production facility in Bensheim, one of the largest of its kind in Europe, the cooperation partners not only meet pharmaceutical standards at the highest level, but also all legal requirements when working with cannabis flowers.
"We are continuously working to improve the use of medical cannabis through reliable data. We underpin our commitment with a number of scientific collaborations. For example, we are currently conducting joint research with scientists at Goethe University in Frankfurt am Main on the efficacy of cannabis extracts to prove their therapeutic potential for various indications," emphasized David Reckeweg-Lecompte. "Cannabis has enormous potential in medical therapy. To exploit it, we need the right framework conditions. This applies to the location, research and health policy. That's why it was very important for us to be able to discuss our topics and concerns with Dr. Meister."
During his visit to the production facilities, State Secretary Dr. Meister emphasized, "The road from basic research to the approval and production of drugs is long. It is essential to bring together the various players from research, academia and industry. I am pleased that we have a company here in the Bergstrasse district that is working on the further development of cannabis medicine for therapeutic purposes on the basis of pharmaceutical expertise, thus helping to strengthen Germany as a pharmaceutical location."